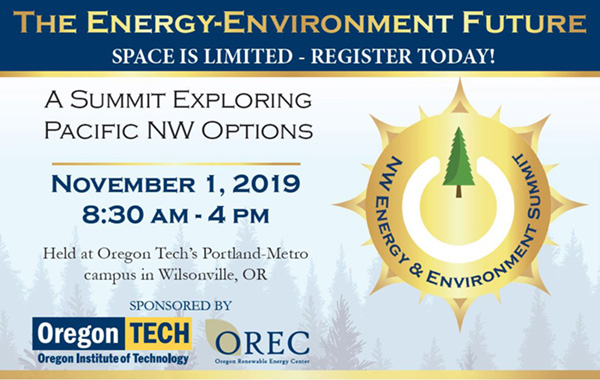 The Energy-Environment Summit, held on November 1, 2019, focused on issues facing leadership and communities in planning for and delivering renewable energy in the context of effective environmental management. The Summit convened and further developed a community of practice that identifies key challenges and develops solutions in the nexus of renewable energy and environmental issues, as well as encourage the adoption of new management techniques or measures that are sustainable.
Powerpoint Slide PDFs:
Session 1: Preparing for the Big One (24:50)
Session 2: Keynote Address (1:19:40)
Session 3: The Carbon Landscape (2:26:45)
Session 4: No Peoples Left Behind (4:22:45)
Session 5: Power Up, Power On, Power Everywhere (5:26:31)
Session 6: What's Next in the Northwest's Energy and Environment Future? (6:23:48)
Download the Program Conference Book for more information on the speakers.
Thank you to our generous Summit sponsors: