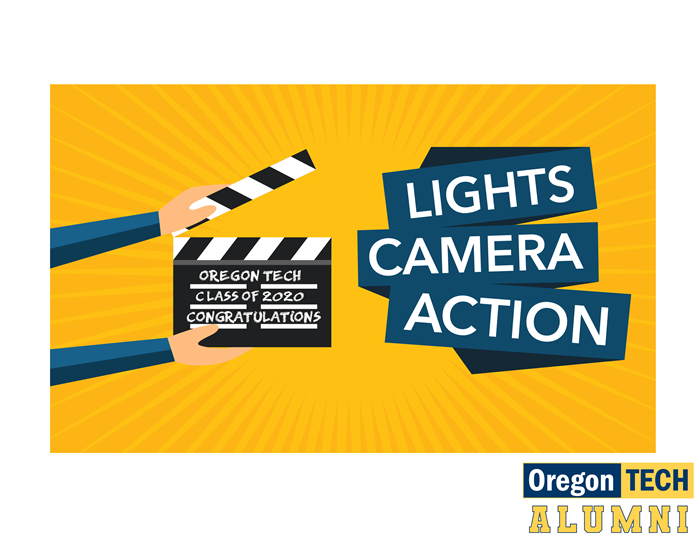 Calling all Owls!
We need your help to congratulate the class of 2020! Here's how:
Submit a short (15-25 seconds) video clip of yourself.
Your video can be as specific as you choose—send best wishes to the whole class, share some quick advice, or shout out specific groups of students you are proud of (majors, student organizations, degrees, etc.).
Videos should be filmed vertically, but we will accept horizontal submissions, too.
Don't forget to wear Oregon Tech branding or colors.
Make sure to end your video by saying: Go Owls!
These video submissions will be compiled and posted to our Oregon Tech Alumni Association page, on our Facebook and Instagram pages, as well as sent in a follow-up email to our graduating students from all degree programs.
Thank you for making this year's virtual commencement more meaningful and for your help in spreading joy to the graduates. Let's welcome the Class of 2020 the alumni family.
#OregonTechTogether
Example Video
TIPS FOR YOUR VIDEO:
Face a window, in daylight, as you film yourself.
DO NOT film yourself with a window directly behind you, in daylight, since this will blowout the image and make the participant difficult to see. Seeing and identifying the person talking in these clips is of importance.
Film outside, standing still or walking around will both work. Just make sure you stay in the frame/picture.
If filming at night, record with a lamp next to your face anywhere, film in your kitchen due to the bright and even lighting and feeling of home comfort kitchens can bring.
Check what your background looks like first and do not use backgrounds that would distract from your message. Ex. Movie posters.
Think about the current noise level of where you are filming. Will people be able to hear you clearly in this space?
Do not film in a bathroom or bedroom.
Double check your video clip to make sure all of the above was considered.
For tips on recording a video from your iPhone, click here. For tips on recording a video from your Android phone, click here.
* We will do our best to include all videos submitted. However, we may have to edit for space considerations.