Vince Jones '84
Civil Engineering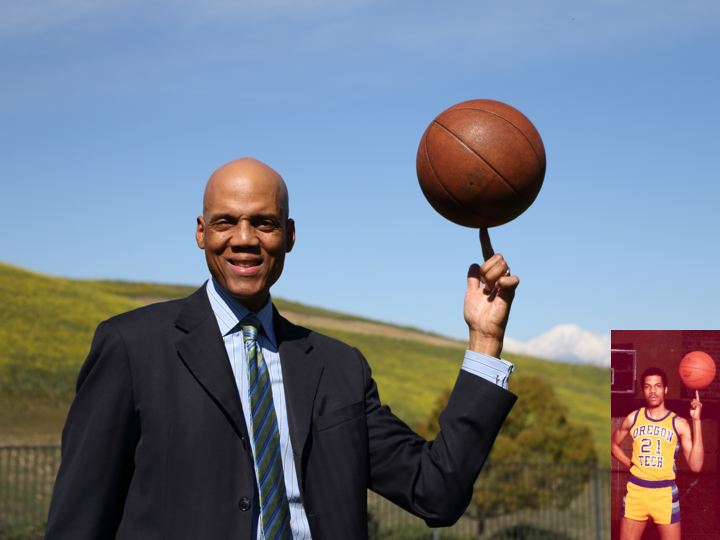 Vince Jones is from Compton, California. After graduating from high school, Vince attended Cerritos College and played on the basketball team from 1977 to 1979. With every intention to study architecture in Southern California, Vince, instead, was recruited by Dan Miles to play basketball for OIT. Always looking for new and exciting challenges, Vince moved to Klamath Falls and enrolled at OIT in the fall of 1979. He decided on a major in civil engineering, with a structural engineering concentration. It was, indeed, a challenge. He remembers waking up on cold mornings, and snow on the ground, to go to his statics class. Then, on to strength of materials, concrete design, and the analysis of indeterminate structures. After which, he headed to basketball practice everyday. As a student athlete, Vince learned discipline, and how to become a responsible adult. He also learned how to function on four hours of sleep, after a long day at school, two hours of basketball, and then home to study, not to mention traveling for away games. These are all aspects that have helped him build character and a strong career as an engineer.
After four years of basketball eligibility (two at Cerritos College, and two at OIT), Vince was not done with completing the academic requirements needed for his degree. He had a decision to make. Should he return home to Southern California or perhaps try to continue his basketball career elsewhere or stay in Klamath Falls and finish his education? He chose to stay. Vince also discovered OIT's Co-op program. This program allowed students to take a semester off to work (full time) at a job that was related to their field of study. Vince had the opportunity to work as a student engineer in Portland for the Oregon Department of Transportation (ODOT). He then returned to Klamath Falls and graduated in 1984 with a Bachelor's degree in Civil Engineering. Participating in the Co-op program was a wise decision. This gave Vince valuable job experience, and the connection he needed for a potential job after graduation. As it turned out, the timing was right, and he was offered a permanent position as a highway engineer with ODOT. Vince worked there for about fours years before returning to Southern California where he took a job with the City of Los Angeles, Department of Public Works in their Bureau of Engineering.
While at the City of Los Angeles, Vince worked on a wide range of projects as a design engineer, project manager and construction manager. Some of the programs he worked on included stints in wastewater design, a Los Angeles Zoo improvement program, and a police and library facilities program. Vince's most recent assignment was as a deputy city engineer and assistant general manager for the Bureau of Engineering. In that capacity, Vince oversaw the Engineering Services Program, which comprises five distinct offices with 139 full-time employees and 160 projects with a capital improvement budget of over $243 million. The Engineering Services Program is responsible for staff performing design, construction management and project management for street and storm water projects, environmental studies, geotechnical engineering, real estate negotiations and acquisitions, and structural engineering services for Los Angeles city projects. Vince learned quickly that his education from OIT was on par with those received from his colleagues who attended other universities. He felt comfortable and confident in working with other engineers. Vince also has the distinction of being the first African American in the history of the Los Angeles Department of Public Works to reach the executive management level of deputy city engineer. In 2013, after 27 years with the City of Los Angeles, and over 30 years of working as a civil engineer, Vince was fortunate enough to retire, and now spends his time helping his wife raise their children, and doing volunteer work. He has been a youth basketball coach for the last ten years and currently coaches high school basketball as well.
Vince's success started with a good foundational education at OIT, and a realistic plan for building a career as an engineer. Vince knows how valuable his experience and education was at OIT.