Alumni Spotlight - November 2020
Richard Hensley '86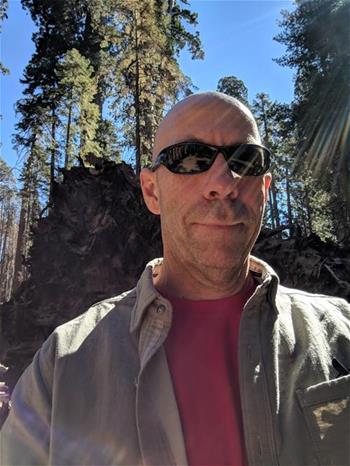 The world of software engineering offers vast opportunities for those passionate about mathematics, computers and problem-solving -- from the healthcare sector to the gaming industry. For a young student in southern Oregon, this became a field where passion and talent reaped great rewards. Richard Hensley grew up in Southern Oregon, in the areas of Grants Pass, Prineville and Merlin. While attending North Valley High School, he was active in the Computer Club, Math Club, debate and theater. A friend of Richard's, who graduated from high school the year before him, was attending Oregon Tech, so Richard had heard of the school.
Richard knew he wanted to study software engineering in college with a hands-on program. He went to Oregon Tech for a visit and met Professor Don Metzler, who at the time was piloting a new program, Software Engineering Technology (SET). Richard enrolled at Oregon Tech, was part of that first cohort of students in SET and had the privilege to be taught by Professor Calvin Caldwell, who is still teaching at Oregon Tech today. Thinking back on his time in college, Richard recalls his Calculus-based Physics course as one of the best and most memorable classes, a course which taught him essential problem-solving skills that Richard says, "has served me more in my career than any other class I took at OIT."
After graduating from Oregon Tech in 1986, Richard began a career in software engineering in the healthcare sector, an industry in which he worked for 24 years. Throughout those years, Richard worked on and created various products, such as an order entry system that ran on the internet for laboratory information systems and a development toolkit for a hospital information system. He also focused on software architecture responsibilities and integration. Richard and a partner also created a corporate venture fund startup which is still in existence today. In that startup, they created a product which allows doctors' offices to approve pre-authorizations quickly; a process that once took from 7-10 days became a 20-minute process with their innovations. Richard has a software patent for that product which is still currently in use.
Having worked on agile software teams starting in the late 90s, Richard began concentrating on the principles that allowed agile to work. From 2008-2018, Richard focused his career on understanding agile software methods. This led to a deep understanding of organizational psychology, team dynamics, and organizational design. Richard also delved deep into the concepts of human psychology and leadership. He helped the McKesson Corporation, one of the world's leading healthcare companies, transition teams and products in order to make better decisions at a rapid pace.
The world of healthcare wasn't where Richard wished to remain, however, and a consulting job with a client led him to a brand new industry. At the moment, Richard makes games for a living! After leaving the healthcare sector, Richard focused his expertise at a company called Riot Games, based in Los Angeles. Riot Games is primarily know for the game League of Legends, which is currently the most-played PC game in the world. To put it in perspective, this game is a leader in the realm of professional e-sports in every category from participation, viewership, and prize money awarded. Teams compete in massive regional qualifiers, before moving to a global finals tournament. In fact, the 2019 League of Legends World Finals had approximately the same single day viewership as the 2019 Super Bowl. Other games produced by Riot Games include Legends of Runeterra, Teamfight Tactics and, their most recent release, VALORANT.
Richard came to Riot Games teaching product management, delivery management and agile craft for six years, which is considered production work in the games industry. He is currently a senior engineering leader at Riot Games, directing software engineers and developing people, work that he thoroughly enjoys. Richard explains that his focus is "to develop the next generation of leaders who are kind, compassionate and empathetic, who can create a safe space for people to take risks." After some difficult introspection and internal organizational changes, Riot Games is actively seeking interns as they are at the forefront of cultural development, increasing diversity in their workforce by attracting and retaining members of communities underrepresented in tech and gaming.
Looking for a career in games? Richard explains that "Games are made out of people, not software. They're made out of emotional energy." His advice for Oregon Tech students and alumni is simple: "CS fundamentals are the single most important skill that you can learn in the context of critical thinking and problem-solving." Perhaps more importantly, though, Richard sums it all up by stressing, "Stay in your integrity and follow your passion!"
~Becky Burkeen, Alumni Relations Manager