Alumni Spotlight - July 2018
Mike Starr '89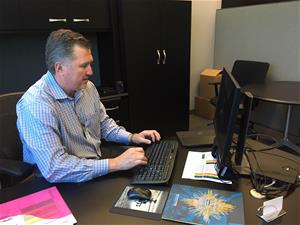 As someone who has run Boeing's entire Portland, Oregon plant of 1,500 people, Mike Starr has come a long way from summer jobs weeding onion fields and working on fishing boats. A small-town guy from Klamath Falls, Mike was raised in a family with a pioneering history of raising sheep in the vast grasslands of rural Oregon. Mike's father, a conductor with Burlington Northern, and his mother who worked out of the home to raise their four kids, brought up a curious son who made the most of life's opportunities to point the way to a successful engineering career.
Mike's history with Oregon Tech began when he was spotted by the university's football coach and recruited as a deep snapper for the Owls, receiving an academic scholarship to cover the $1,500 annual tuition costs. While he had always had a talent for science and math, a career in engineering had not yet solidified for Mike. But after being intrigued by a mechanical engineering course, Mike was hooked. "My brain just kind of worked that way."
He thrived in the small class environment and the connections that he built with faculty along the way, with Oregon Tech being a "big" university to him, having gone to a Catholic school in Klamath Falls with 22 kids in his class. Then, after an injury on the football field in his freshman year ended his sports career, he focused exclusively on his studies, graduating Summa Cum Laude in 1989 with a degree in Mechanical Engineering.
After graduation, Mike's path led straight to a job with Boeing at its Renton plant in Washington when he received two offers from them after attending an Oregon Tech career day event. He started out as a Liaison Engineer at $27k a year, working on the last military-version of the 707 planes. But six months later when a job opened in Portland, he jumped at it as a way to be closer to home and his large family.
Now 29 years later, Mike is Vice President of Actuation at Boeing and senior leader at the plant in Gresham, Oregon, working with "amazing products and 1,500 amazing people." Actuation deals with anything that moves in a plane, such as flaps, doors, tail sections, landing gear, shafts, housings and the like. After 30 years of others designing and building this, now they create these parts at the Gresham plant. "It enables us to control sourcing better," Mike explains. "Portland is the only plant that does actuation – the rest of fabrication is divided by domains. Our plant is known for its large titanium structures which form the skeleton of the plane."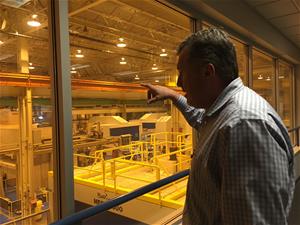 These days Mike hires all of the Oregon Tech grads that he can get, "but there's just not enough of them," he notes with a hint of frustration. He has seen a high quality skill-set and work ethic among all their Oregon Tech-educated employees, but especially those who were in the MECOP paid-internship program, formerly known as the Multiple Engineering Cooperative Program. "I'm glad I went to school in the 1980s as today the graduates are so good and the competition is very high. Students are eloquent, team players, able to work together well. Boeing treats them like they've been there for a long time because they are so talented and mature."
Boeing hires Oregon Tech students from both campuses, Klamath Falls and Portland-Metro (Wilsonville), but rarely takes on engineers who haven't had internships. "At Boeing we call internships 'the long interview.' It shows us how students solve problems, interact with the team, and their work ethic."
When asked how Oregon Tech prepared him for his career, and what he had that his colleagues from other schools didn't, Mike noted with pride, "Shop experience. When I was at Oregon Tech I took welding and learned foundry skills. We didn't just design, we actually made things. So I had an awareness, understanding, and respect for the work that welders did, and how the engineers' work impacts the welder, and others who work at that type of fabrication. Managers at Boeing absolutely appreciate the difference that Oregon Tech MET grads bring, and their ability to apply knowledge."
Now as a proud alumnus, Mike stays engaged with Oregon Tech through alumni giving and also by helping to promote the university. "I always say to students, that if they want a successful engineering job, they need to go to Oregon Tech." He describes the polytechnic as "hands-down the best MET school around," with great professors who are interested in teaching, don't use TAs, and offer small hands-on classes that allow for more professor-student engagement. "OIT is just like MIT, but in Oregon," Mike notes with pride.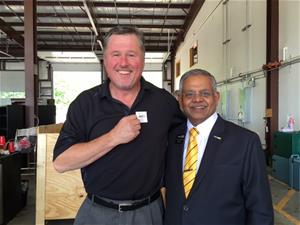 Back in the day when Mike was at Oregon Tech he relaxed by going hunting with one of his favorite teachers, Physics professor, Brad Burda. "He always wanted to go goose hunting on Thanksgiving and never wanted to leave the shoot. But I had to get back for dinner at a certain time if I didn't want to get in big trouble with my Mom!" Burda retired from Oregon Tech in 2016 after having served as its Provost for many years.
These days when not engaged with his demanding work at Boeing, Mike relaxes by digging deep into his small garden, planting and nurturing roses and being a beekeeper. Married now for 23 years, he and his wife Eren have a daughter and son pursuing higher education themselves at Loyola Marymount and Willamette University, respectively. The same pride that shines in his eyes when he talks about Oregon Tech and Boeing also is also very apparent when he talks about his family. It is a pride that took flight over three decades ago as Mike became a Hustlin' Owl, and now has come full circle as he flies high on wings made by Boeing.
~Di Saunders, AVP for Communications and Public Affairs