Mike Hoffner '84
Mechanical Engineering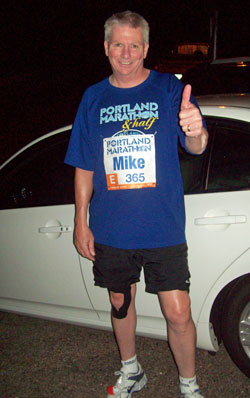 Where and what are you doing now? I am now in Beaverton, OR. I own 3 PostalAnnex shipping stores for almost 12 years now. I was an executive with Combined Insurance for 15 years prior to owning my own stores. I have completed the last 3 Portland Marathons at age 48, 49 and 50. I am also a pretty good golfer.
What is your fondest memory from Oregon Tech? Playing basketball...Coach Miles 200th victory, scoring 36 points again NW Nazarene, and beating undefeated Western Oregon in our gym.
How did Oregon Tech prepare you for your career? Though I received an engineering degree, I was making almost $1000 a week selling insurance after I left school and never went into engineering. I learned from Coach Miles the importance of working hard and I continue to do so today.
Why did you choose your career path? I was making so much money for my age selling insurance right out of college, I just never went into engineering. After 15 years I just got tired of working for someone else, I decided to venture out on my own. It has worked out beautifully.
Why did you choose Oregon Tech? Basketball...
Who were your favorite professors at Oregon Tech? Wow....30 years ago...can't remember his name or even the class but he was definitely fun.
What have you done since graduation? I have had two jobs...Insurance and owning my PostalAnnex stores as I mentioned above. I am proud of my financial success through both avenues.
Do you have any advice for a current Oregon Tech student? If you are going to work...work hard...if you are going to play...play hard...if you are going to pray...pray hard... No matter what in life you start, then don't stop till you finish!