Larry Claussen '88
Electronics Engineering Technology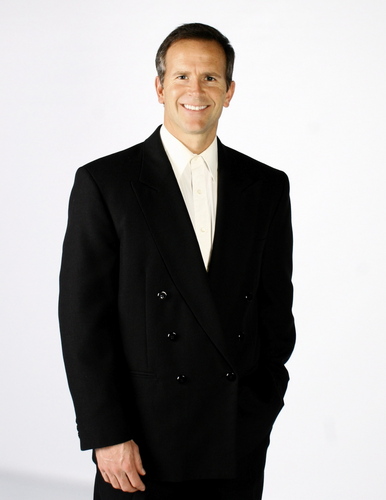 When Larry Claussen started his junior year of high school, machine processing was all he could think about. However, later in his junior year, a senior level electronics teacher put a bug in his ear about electronics engineering. From there, his aspirations changed drastically and ultimately brought him to a career he never dreamed of.
Larry Claussen grew up in a small town just southeast of Salem called Lebanon. After graduation, Larry enrolled at Linn-Benton Community College and earned a two-year Associate degree in Electronics Engineering. Shortly after graduating from Linn-Benton ,Larry and a few friends started to ask themselves the question, "Well, what now?" He contacted Oregon Tech, and a few signed documents later, he was enrolled for a Bachelor of Science in Electronics Engineering Technology from Oregon Institute of Technology. "We had fun at Oregon Tech. We camped up by the "O" and went cross-country skiing at Crater Lake," he states. This rings similar to the normal Oregon Tech experience, except Larry was taking 18-21 credits a term and earned his degree in less than two years.
In the weeks following graduation, Larry traveled across the country interviewing for jobs. He eventually took a job with Applied Theory in Corvallis, OR, where they built laser scanners for the buildings product industry. After three solid years as an Entry-Level Engineer, he was promoted to Electrical Engineering/Mechanical Engineering Manager. "This was a big move for me," says Claussen.
Subsequently, Larry enrolled at Oregon State University for his MBA. In 1993, Applied Theory voted to move their company to Woodland, WA. Larry decided to pass on the chance to move with the company to Washington and took the opportunity to advance his career. Within a few weeks, Larry took a job with one of Applied Theory's vendors, Pacific Control, a company focused in automation of software and controls. This new job opportunity was something completely different than what he went to school for and he started as the Business Development and Account Manager. Claussen stated, "Sales really opened doors for me. This was truly the turning point in my career." While at Pacific Control, Larry finished his MBA and his career was changing paths faster than he could fathom. "I would have never guessed this is the path my education would lead me."
In 1999, Larry joined a company called Industrial Software Solutions and partnered with another Oregon Tech classmate, Darrin Dedrickson, in real estate ventures. They started building high-end homes throughout Oregon and ran a very successful business. In 2008, the company stalled as the real estate market crashed. Seeing the writing on the wall, Larry was already making plans to build another successful company. In 2007, Larry started a company called Wing Tip, LLC. Wing Tip focused in automation software engineering services, mainly for manufacturing companies. In 2012, Larry left Wing Tip and joined Invensys, a company focused in business management software. His main focus for Invensys is to bring their product (from India) to the North American Market. In 18 months, his sales have gone up 330 percent, and has since switched to channel management.
This is pretty unbelievable for someone who decided at the last minute to attend a small college in Klamath Falls. "Oregon Tech prepared me very well. The learning was so practical and the hands-on experience made all the difference," said Claussen.