Alumni Spotlight - August 2021
Kate '06 and Steve '08 Lazzini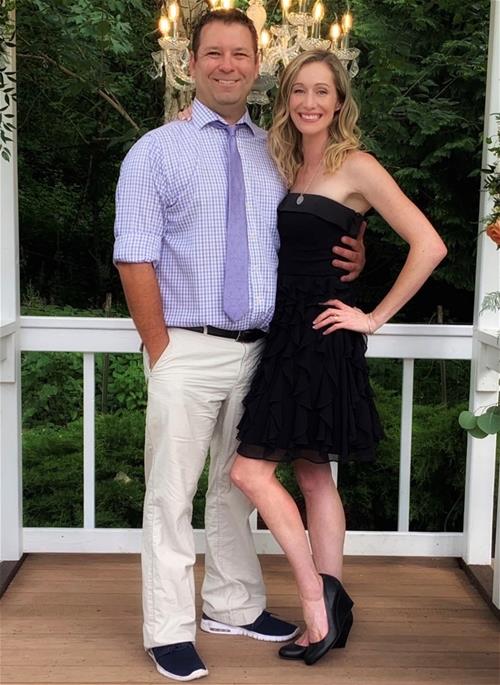 Kate and Steven Lazzini are an Owl couple whose careers are as impressive as their paths to Oregon Tech. Kate grew up in Beaverton, OR, graduated from Westview High School early and attended Loyola Marymount University (LMU) in Los Angeles, CA to play division one water polo.
Steve grew up in Windsor, CA and graduated from Cardinal Newman High School. He enlisted in the Marine Corps after high school, where he served as a Field Wireman and a Machine Gunner. His deployments included tours throughout Asia and Iraq.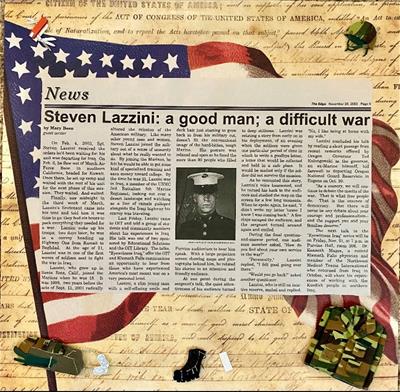 During Kate's first weekend at LMU, her teammates took her for a night on the town near Disneyland and that's where she met Steve. He was stationed at Camp Pendleton near San Diego and the two began a relationship. Kate and Steve were married in 2002 before he was deployed to Iraq in 2003. When Steve's enlistment with the Marines was over, the couple moved to Klamath Falls to pursue their educational goals, in an area that was centrally located between Steven's family in California and Kate's in Oregon. Kate had friends in the ultrasound and engineering programs at Oregon Tech so the Lazzinis were familiar with the school. Kate also had relatives in Klamath Falls, which provided a great support system for the couple while they were attending college there.
While at Oregon Tech, the married students joined an intramural water polo team as well as befriended many of the international students attending Oregon Tech who have remained lifelong friends. Kate completed her degree in Communications with a minor in Business and a certificate in Dispute Resolution in 2006 at Oregon Tech. Steve completed his degree in Environmental Science in 2008.
While in Klamath Falls, Kate completed an internship at Hosanna Christian School and the school administrators loved her involvement and asked her to teach full-time after graduating from Oregon Tech. Kate taught 6th, 7th and 8th grade Language and Expressive Arts. While she thoroughly enjoyed the experience and appreciated the opportunity to become so involved in her community, Kate had an underlying desire to get involved with law enforcement. She became a reserve police officer, volunteering with every bit of free time that was available to her. To combine a love of working with children with a passion for law enforcement, Kate eventually became a juvenile probation officer, managed the youth court program, and volunteered as a CASA board member & state president of Oregon Youth Courts.
After Steve graduated from Oregon Tech, he worked as an environmental inspector for large linear projects (including transmission lines, gas lines, and fiber optics lines), spanning hundreds of miles across the Southwest, which obligated him to spend a lot of time on the road. The couple had experienced a long-distance relationship while Steve was on various deployments as a Marine, and this job once again kept him away from home. After a couple of years, Steve landed an amazing opportunity with the US Fish and Wildlife Service in Vancouver, WA, where he still works as a fish biologist. Steve's work for the Columbia River Fish and Wildlife Conservation Office includes overseeing many of the national fish hatcheries in the Columbia River Basin. Steve is responsible for ensuring that hatcheries meet their production goals, that they fulfill their tribal obligations, and that they maintain their Endangered Species Act compliance. His office marks 32 million fish annually in the Columbia River Basin and helps provide fish that help mitigate the losses due to the many dams that have been placed along the river.
Once the couple moved back to the Portland, OR area, Kate was hired by the Multnomah County Sheriff's Office as a law enforcement deputy. While at the police academy, Kate went back to school and earned a Master's degree from Cal State University Dominguez Hills in Negotiation, Conflict Resolution and Peace Building with hopes of becoming a hostage crisis negotiator, a goal that quickly became a reality during her employment. She then became a detective assigned to an interagency Major Crimes team as well as assigned to the Domestic Violence Enhanced Response Team (DVERT) that focused on domestic violence, sexual assault and child abuse cases, which became her expertise. Concurrently, Kate served as a law enforcement training instructor and managed the Citizen's Academy Program for Multnomah County. Kate's passion to continue working with kids motivated her to create youth outreach programs with a fellow deputy. They created classes that taught children about the diverse facets of law enforcement, provided safety awareness classes, and worked in conjunction with the SUN (Schools Uniting Neighborhoods) project to provide valuable life skillsets and resources for youth throughout the community. Kate also wrote grant proposals to large national retail stores that provided resource funding for backpacks, clothing, books, and other supplies to support underprivileged youth.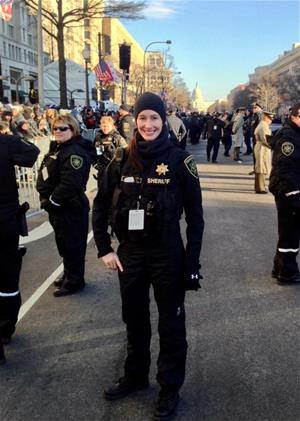 Kate's experience working with multi-agency collaborative law enforcement teams helped her realize the gaps in transparency and accountability that many agencies suffer from. She recognized the need for and benefits of professional training. She left the sheriff's office and became an independent consultant, establishing her own business, Warrior Driven. Kate now trains law enforcement agencies and community partners throughout the country on how to create high-risk collaborative team partnerships that collectively work together to respond to community needs and build sustainable trust. She is also working on her Doctor of Education degree in Organizational Change and Leadership, specifically focused on law enforcement, from the University of Southern California. Additionally, she has her private investigator's license and helps various agencies and law firms with investigations and expert witness testimony. Kate's goals are to fully support law enforcement while taking into consideration all community partners for accountability and transparency. Kate is authoring a book that will help agencies with her training philosophy.
The Lazzinis have even more connections with Oregon Tech. Kate's brother, Andrew, just graduated in 2021 with his business marketing degree and his wife, Abby, will soon be graduating from the ultrasound program. Their advice for current or future students of Oregon Tech is this: "Refuse to entertain the idea that going to a small school will hold you back from accomplishing big dreams. You may think you know the direction of your journey, but take time to live in the moment and trust the process of where life leads you. Life is full of unexpected surprises that may generate far greater opportunities than you ever could have possibly imagined. Stay focused, curious and motivated. Enjoy the ride!"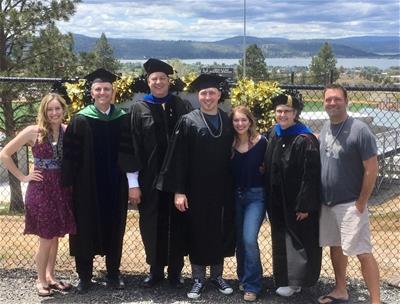 Kate and Steven have a 10-year old son, a 7-year old son and 3-year old daughter. The couple has traveled the world, and currently reside in Camas, WA.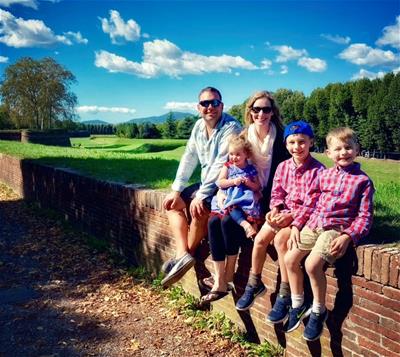 ~Becky Burkeen, Alumni Relations Manager