Alumni Spotlight - September 2021
Jacob Graham '05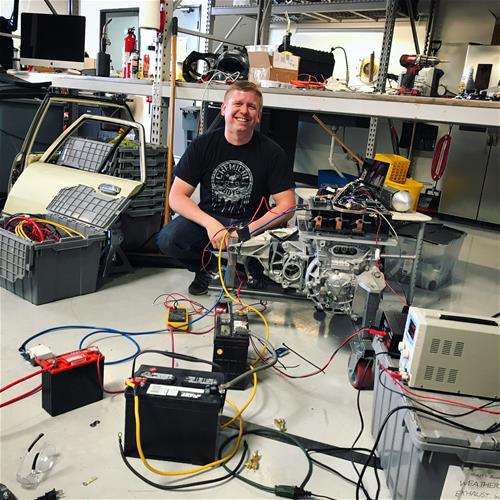 Jacob Graham was born in Eureka, CA, moved to Seattle, WA at age eight so his father could attend physical therapy school and the family ended up in Klamath Falls when Jacob was 12. Jacob attended both Henley Middle School and Henley High School. He knew from the time he was in middle school that he wanted to pursue a career in the engineering field and recalls looking through Oregon Tech's class offerings from a young age. After he compared their programs to other schools, Oregon Tech was the only school he applied for when he graduated high school in 2000. While in college, Jacob was active in the 4 Seasons Sports Club, a club that focused on activities such as competitive shooting, camping, adventuring and outdoor activities.
Jacob's degree program was a dual computer and software engineering program which, unless you take summer school each year, typically takes five years to complete. In December of 2004, Jacob completed his requirements and was immediately hired by International Game Technology (IGT) in Reno, NV as a software engineer. He began working in the spring of 2005, taking a break to walk at his commencement ceremony that June. Jacob worked at IGT for nine years, starting off on mechanical reel games (slot machines) and then quickly moved to the advanced video platform team where he worked until 2013.
While working at IGT, Jacob was focused on the software side of his education, not utilizing the hardware side that he had also studied and thoroughly enjoyed. To fulfill that part of his interests and renew those skills, Jacob worked on a series of projects. First, he built a reverse trike car for the street, similar to the Formula SAE vehicles built at Oregon Tech and other universities. Then, wanting to dabble in electric vehicles, he built a Tesla-powered 1981 Honda Accord with his friend, Jim Belosic. Leveling up, Jacob then designed and built an inverter/motor drive unit from scratch. Once completed, Jacob found a home for the electric motor assembly in a 1981 DeLorean, whose original motor was in terrible condition. Jacob explained, "What I learned at Oregon Tech set me up well as far as how to approach and break down problems and to not be afraid of challenges."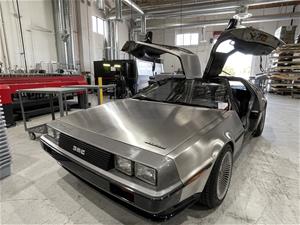 Jacob's next-door neighbor friend, Jim, was doing freelance design work for casinos and he and Jacob shared an interest in collaborative projects, such as the aforementioned vehicles. Jim and Jacob joined forces on projects together that incorporated Jacob's background in software, including an app to project advertising on monitors on the casino floors. Jacob contracted with Jim for a while until he was ready to leave IGT and focus his efforts full-time on a business they were developing, ShortStack - a cloud-based campaign platform for businesses. In 2013, Jacob took the leap of faith to focus on their start-up company and continued to build that business until they sold ShortStack in Feb of 2020 and started a new business.
SendCutSend is Jacob's latest venture with his business partner, Jim, in which he gets to blend his educational background with a passion for manufacturing, engineering and exploring different technologies. SendCutSend focuses on the on-demand manufacturing of laser-cut goods such as sheet metal, composites, plastics, and other materials for consumers and businesses alike. They are a quick-turn manufacturer in a process in which customers upload their designs to the website online and their goods are ready in just a couple of days. As Jacob expands, "We enable hobbyists, prototypers, fabricators and businesses alike to have quick, easy access to their designs." The business originally started in the same space where they housed ShortStack, but they quickly outgrew that space. They then acquired their current large building in Reno and after just one and a half years, they are once again expanding. SendCutSend will soon have satellite locations around the country.
Jacob would like to broaden the capabilities and services of SendCutSend in the 2D subtractive market while constantly improving quality and turnaround time. There is quite a demand for the services that they are providing not only from business customers but also from schools, robotics teams and other organizations.
Jacob feels that the program he went through at Oregon Tech was phenomenal, so much so that fellow alumni in his circle and graduates that he has hired have always been able to hit the ground running in their careers. Thankful for the wide breadth of skills he learned at Oregon Tech, he also credits the school for instilling in him the confidence needed to become a successful and innovative entrepreneur. His advice for current or prospective students at Oregon Tech is: "Don't fear challenges. Everything becomes a wonderful growth opportunity."
Jacob has two daughters, ages nine and 11, and has been married to a Klamath Falls native, Donica, with whom he attended middle and high school. Oregon Tech's president, Dr. Nagi Naganathan, Vice President for Institutional Advancement, Dr. Ken Fincher, and yours truly, were recently treated to a tour of the SendCutSend offices and facility and couldn't have been more impressed. Jacob and fellow alumnus at SendCutSend, Greg Schlottmann '97, are doing amazing work and making their alma mater very proud. Go Owls!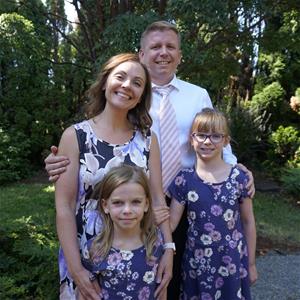 ~Becky Burkeen, Alumni Relations Manager