Alumni Spotlight - December 2020
George Marostica '53, '55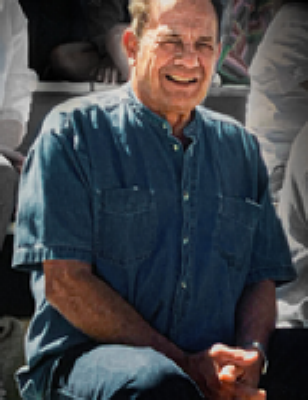 Legacy families are a commodity that universities take great pride in; multiple relatives from the same family who attend the same school. The Marostica legacy at Oregon Tech is extraordinary though, and it all began with George Marostica.
In the early 1950s, just a few years after Oregon Tech opened, the school was known as Oregon Technical Institute. George Lewis Marostica was living in Weiser, Idaho on his family's farm. He graduated high school, married his high school sweetheart, Kay Bowman, and they both decided to attend OTI together. The plan was for George to study Welding and Machining to take those skills back to the farm, while his bride studied Secretarial Science Technology. The couple lived on campus in housing that was specifically for married students.
George developed a love for machining while in college and after earning his welding degree in 1953, he earned his second degree in machining in 1955. His first job out of college was for the Hyster Company, a logging equipment manufacturer based in Portland, OR. After just a couple of years of working for Hyster, Oregon Tech reached out to George and asked him to be an instructor. George was excited to move back to Klamath Falls. This was the first time a former student was recruited to teach at the school.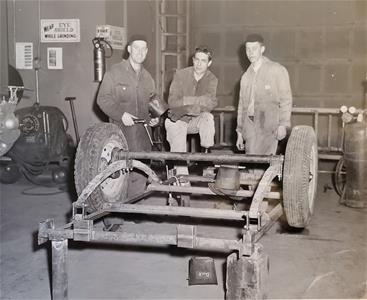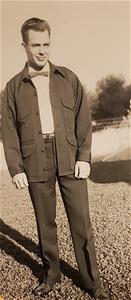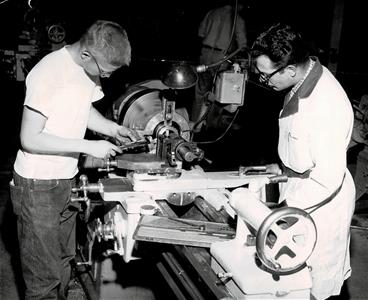 (Photo 1: George as a student (center). Photo 2: George at his first job with Hyster. Photo 3: George as an instructor.)
Dedication and service is an understatement in describing the tenure of George Marostica, who was an Oregon Tech instructor for over 50 years. During that time he had a variety of positions and responsibilities, including serving as the Department Chairman/Instructor of Manufacturing and Mechanical Engineering and Welding for some time. Administrative duties were not his favorite, though. His passion was for teaching. By the time he retired in 2012, George had taught on both the original campus up on the hill of Old Fort Road and the current location on Campus Drive. From 1957-2012, George taught over 5000 students, an impressive accomplishment for this devoted and purposeful educator.
A 2007 article in Oregon Tech's student paper, The Edge, was a wonderful tribute to Marostica's legacy of teaching. At that point, George was 75 years old and had celebrated 50 years of teaching. As he explained in the article, "I just love to teach. I enjoy watching the kids learn and create their projects; also this is the best job in town as far as I'm concerned."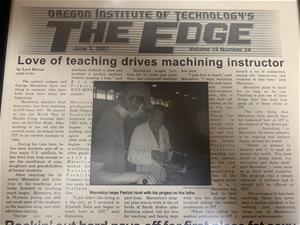 George once started a high school competition for welding and machining which was held for many years in the Klamath County high schools. Although it was discontinued due to budgetary constraints, there is current interest in renewing that program.
In addition to welding and machining, George had an interest in gunsmithing and that was another skill he was able to hone while at Oregon Tech. George enjoyed making guns for relatives and his son Tony recalls getting to shoot in the tunnel underneath campus when he was a kid.
George's first wife, Kay Bowman, passed away in 1992. Four years later he met Karen Lingafelter and they were married in 1999. While the children from both sides were grown by then, George made sure that everyone merged as a family. The legacy of Oregon Tech graduates continued with George's son, Tony Marostica, who lived on the campus with his parents when he was a child and eventually graduated in 1991 with a Manufacturing Engineering degree and in 1998 with a Mechanical Engineering degree. George wrote an instruction manual on the principles of machining that is still used by students today. This manual was later used by Tony when he took over the teaching of his father's classes when George retired in 2012. Tony later revised the manual with Dr. David Culler and only recently retired himself, in the summer of 2020.
In addition to Tony, George's daughter Patricia graduated in 2000 with a management/accounting degree, his son-in-law Achim graduated in 2001 with a Software Engineering Technology degree and his granddaughter Briana Cullen graduated in 2019 with a nursing degree…all from Oregon Tech! At Briana's graduation, George proudly stood in the audience when it was time to honor the Golden Owls, those alumni who graduated 40 years ago or longer. Tony Marostica's wife, Paula, was the first sign language instructor at Oregon Tech, developing that class and teaching throughout the 90s. Truly a family affair!
Teaching was his passion, but George was also involved in the Klamath Falls community through other practices. He was a past president and member in good standing for the Sons of Italy — his parents were immigrants from Italy. He was a member of the Society of Manufacturing and Engineering and he regularly donated to the Red Cross blood bank. Retirement did not keep George away from Oregon Tech, as he enjoyed visiting the campus and going for walks there in his later years. His passion for the school and the students is a legacy that will live on in perpetuity.
George passed away peacefully at home in October 2020 at the age of 88, surrounded by family and friends. He was a caring husband, father, grandfather and great-grandfather. His legacy at Oregon Tech will continue on through the thousands of students he taught and others that he will influence with the mark he left on the machining program. George believed in education and encouraged his relatives to attend Oregon Tech, as if it was the only school to go to!
You can honor George's legacy by making a gift to the George Marostica Memorial Scholarship Fund by visiting www.oit.edu/give,
choosing "Other" and typing in his name.
~Becky Burkeen, Alumni Relations Manager