Alumni Spotlight - October 2018
Florian Houguet '04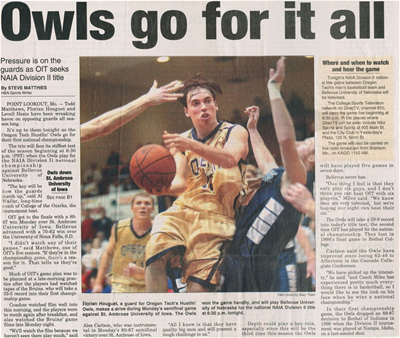 As a young basketball player growing up in Southern France, Florian Houguet never imagined he would one day become a graduate of Oregon Tech, all the way in Klamath Falls, Oregon. Danny Miles had a different plan for him, though. Coach Miles had visited France over the course of three years on recruiting trips and met Florian when he was in high school. Florian was attending a summer basketball camp when the coach and athlete first met. At just 15 years old, his command of the English language was not very strong so Coach Miles explained to Florian's father that he would like to offer his son a scholarship to come play basketball at a college in Oregon once Florian graduated from high school.
The Houguet family did not own a computer back in the 1990s but they purchased one after meeting Coach Miles. They used the computer to research Oregon Tech and in December of that same year, called Danny Miles and let him know they were interested in his offer. On his last visit to France to visit the Houguets, Coach Miles brought his wife, Judie, along and knowing that this nice couple would become surrogate parents for Florian helped reassure Mr. and Mrs. Houguet their son would be just fine moving to America.
When it was time to officially apply for college, Florian only applied to Oregon Tech. He remembered when the Olympic basketball team (the Dream Team) played in Barcelona and that inspired him to improve his English and pursue his dream of playing the sport he loved in America. The oldest of three children, he was the only one to leave France. He didn't even understand the full scope of the majors listed in the admissions brochure, but he was determined to go play basketball for Coach Miles. How he chose his major is a great story. Looking at the catalog, he knew he didn't want to major in anything medical because he couldn't stand the sight of blood. He also knew that some of the other majors required a good language background, which he was still lacking. So he looked at the technical options and saw software and hardware. Hardware sounded, well, "hard," so he decided to major in software engineering because it sounded easier. Little did he know it was just as challenging but a field he grew to enjoy.
At Oregon Tech, Florian developed life-long friendships with his teammates, other classmates and even professors. He was a class valedictorian in 2004, graduating the same year that the Hustlin' Owls won the national championship in basketball. He also served as president of the International Club during his time in Klamath Falls.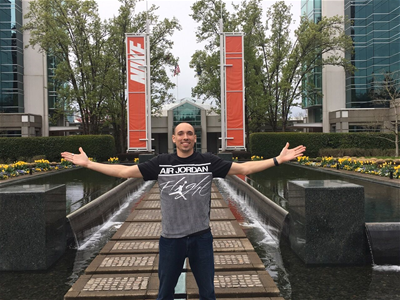 After graduation, Florian worked at JELD-WEN as a Software Engineer, a position which began as an internship the year before he graduated. He had the opportunity to work in Europe for them as well. While in Denmark working, Florian played as the starting point guard for a semi-pro basketball team, along with another Oregon Tech alumnus. After working at a couple of other places, Florian landed where he is today.
Florian began working at Nike in 2013 as a Retail Business Analyst and is now a Digital Innovation Product Director. His main focus at Nike is to inspire teams that drive innovation in order to have an impact on Nike's success. He builds teams, streamlines work processes and moves goals forward. No longer working as a software engineer, Florian is now enjoying working on the business side of things as an organizational leader. Florian says about change, he doesn't just embrace it, he drives it.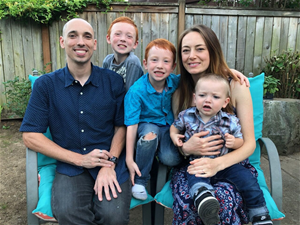 Florian met his wife, Angela, a communications alumna, at Oregon Tech. Angela also played basketball for the university! The couple have three sons, ages two, six and eight. Besides spending his days on the Nike campus, Florian is working on his MBA, is training for a triathlon, enjoys coaching youth basketball and loves learning new things. Florian also remains an active alumnus of Oregon Tech by serving as an industry advisor, meeting twice a year to examine the Oregon Tech curriculum to ensure it is still relevant to what new graduates will be expected to know in the workplace. Florian will be hosting a workshop in February of 2019 for students and alumni on how to build your brand.
When asked what was one of his favorite things about Oregon Tech, Florian responded, "One of my favorite things was it being Friday night at 5PM and not knowing what my plans would be for the next 48 hours…the unscripted opportunities of college life. And basketball."
~Becky Burkeen, Alumni Relations Manager