Alumni Spotlight - January 2020
Elissa Stoltz '16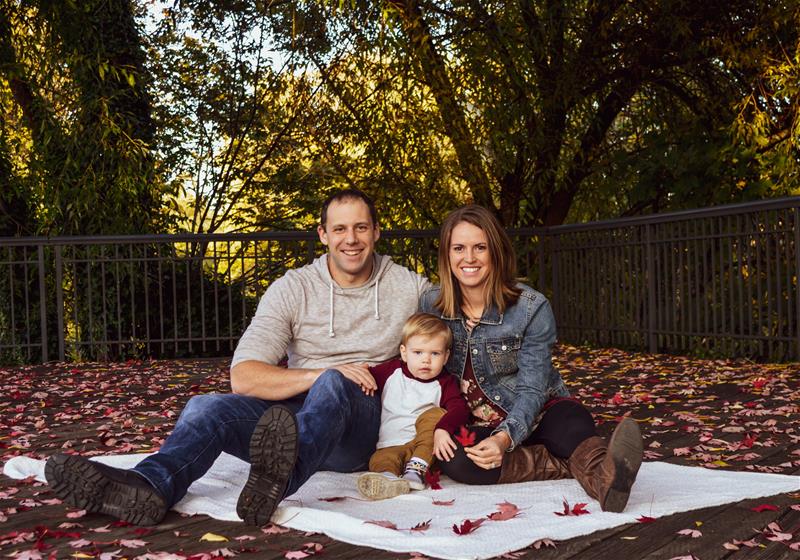 Elissa Stoltz grew up in Redmond, Oregon. She always knew she wanted to do something in the medical field and did a couple of job shadows in high school, narrowing her focus to medical imaging. The radiology tech who she shadowed had a passion for his work and it was very contagious. After some research, she discovered that Oregon Tech had one of the best medical imaging programs AND it was still in state! She also knew she wanted to keep running cross country, as she had done in high school. Bonding with those teammates as soon as she started college helped build an instant community that is still a close knit group today.
Elissa lived on campus her first year at Oregon Tech, then spent the next two years as a Student Success Mentor in Residence Life. Her job was to help her fellow students with academics and make sure they had the resources they needed to be successful. Elissa was fortunate to run all four years while at Oregon Tech, even during her senior year while she was in Roseburg completing her externship for radiology. During externship, Elissa used the full 12-week modality rotation in the MRI department and was able to complete all the required competencies to sit for both the x-ray and MRI exams after graduation.
After commencement in 2016, Elissa moved to Colorado, where her husband was stationed with the Air Force. Only a few months after graduation she got a job at the University of Colorado Hospital working as a brand new MRI Technologist. She gained a lot of MRI experience/training working at such a big hospital for just shy of three years. Recently, Elissa and her family moved back to Oregon and she now works in Eugene at Sacred Heart Medical Center, working alongside many other Oregon Tech alumni as an MRI Technologist. She loves the variety of images and the diversity of patients she sees on a daily basis. Giving a patient her undivided attention for those 40-60 minutes each day is the most rewarding part of her job.
Elissa and her husband knew each other from Redmond and were engaged during her first year of college. He was in the Air Force at the time and they got married right after her freshman year. Being a 19-year old married student in college was different than most of her peers, but Elissa recalls how supportive her friends were. They now have a son, Noah, who celebrated his 2nd birthday on Christmas.
Elissa loved Oregon Tech and her experience in the Medical Imaging program. She reflects on how all of her teachers were so supportive and wanted their students to succeed, doing everything they possibly could to help them out. Working in a big university hospital in Colorado, Elissa says she felt very prepared; always knowing what questions to ask and how to use her knowledge to avoid feeling overwhelmed. As a proud alumna, the advice she would give current students is, "Keep going even when it's tough and don't get caught up focusing on grades. Focus on the content and the WHY behind whatever you are learning and the knowledge will come. I also recommend finding whichever modality you are most passionate about."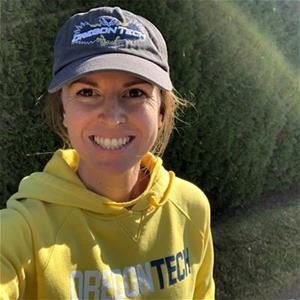 So what's in store for Elissa's future in healthcare? Elissa is very content being a tech, working in MRI and enjoys the patient interaction. Self-care is important to her, such as exercise and talking to coworkers and other professionals. To stay involved and support her alma mater, Elissa recently went to watch the cross country team compete in Cottage Grove. She ran around with the coaches and helped them with the timing. She also wants to get more involved helping plan alumni events in her area.
Looking back at her time at Oregon Tech, Elissa says she loved the coaches, Jack Kegg and Laura Schwartz, and the athletic training support. The coaches had big dreams for the team and believed in the athletes, oftentimes more than the athletes believed in themselves. Her favorite thing about her college experience was attending campus events, going to the games, living on campus and connecting with other people, which all made it a fun experience. She was All-American in Cross Country in 2014, Steeplechase District Champion in 2015 and graduated at the top of her class in Medical Imaging and was awarded many awards and accolades upon graduating. Elissa truly epitomizes what a successful student athlete looks like and we are excited to see where her career takes her. Go Owls!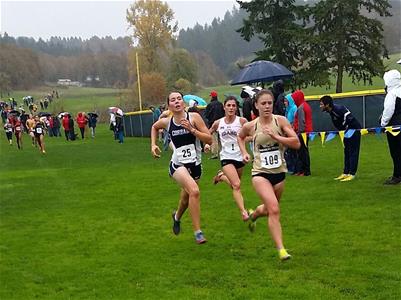 ~Becky Burkeen, Alumni Relations Manager