Alumni Spotlight - October 2020
Danielle Garcia '19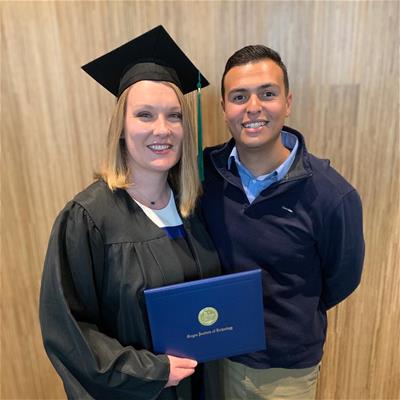 Danielle Garcia grew up in Klamath Falls, OR, daughter of Debi Snider, an Oregon Tech nuclear medicine alumna from the 1980s. After graduating from Henley High School in 2007, Danielle entered Oregon Tech, but her degree path turned out to be different than she had expected. Attending college as a traditional student, Danielle didn't have a career focus, nor did she have the desire to continue, so she left college and worked odd jobs trying to figure out her path. Almost ten years later, in 2016, Danielle was reinstated as an Oregon Tech student with the stipulation that she could not earn anything below C grades. Her advisor, Rose McClure, who happened to be her neighbor growing up, encouraged Danielle to research information on a career in Medical Lab Sciences (MLS), which was previously called Clinical Laboratory Sciences (CLS). Danielle had never heard of this field but Rose's previous experience in the profession paired with the job availability and opportunities for career advancement, sounded very promising. After working on prerequisites for the program for two years at the Klamath Falls campus, and with the support and encouragement from her husband, Danielle applied for and was accepted into the highly competitive MLS program that is based at Oregon Tech's Portland-Metro campus. Danielle relocated to Wilsonville to complete the program while her husband relocated to Tucson, AZ for a full-time position offered by the Arizona Air National Guard. The MLS program in Portland is an intense 18-month program with 15 months of classes and labs followed by three months at an externship site.
Danielle will tell you that she is very fortunate that the MLS program worked so hard to set up a new externship site in Arizona at the Southern Arizona VA Health Care System. Her trainers at the VA hospital were impressed with her level of preparation for the position and Danielle credits that preparation to the professors at Oregon Tech. After completing her externship, graduating, and passing the certification exam, she was hired as a Medical Technologist on the night shift at the VA. Although her title is Medical Technologist, the position is often referred to colloquially as a Generalist or Bench Tech. As a Generalist, she works in all the departments of the hospital laboratory consisting of Hematology, Chemistry, Coagulation, Urinalysis, Microbiology/Molecular Diagnostics, and Immunohematology. She enjoys being a generalist, explaining that every day at work there is something new and different. Although she admits her duties are exhausting, especially working the night shift, she is still excited to go in every day. Working an off shift, she's forced to apply everything she learned in school because often there's no one to ask for help. Thanks to her training at Oregon Tech, she has the confidence to excel at her position.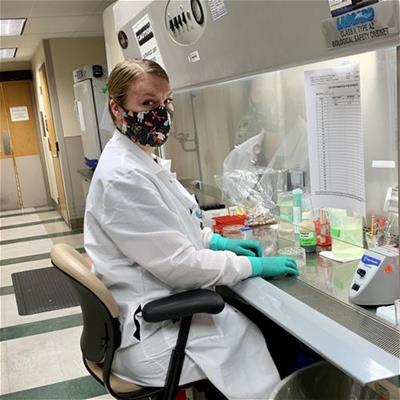 The patient population at the VA Hospital is very vulnerable by and large, consisting of veterans who are elderly, homeless, or have complex health issues. Because of this, the hospital took the Covid-19 pandemic very seriously from the onset, implementing strict procedures for employees and patients such as social distancing, daily temperature checks and appropriate personal protective equipment (PPE). In the laboratory, they now have two different molecular tests for the detection of SARS-CoV-2, including one that results in less than one hour, and an antibody test for the detection of previous infection. The state nursing home is also attached to the VA hospital so in order to prevent any outbreaks, residents were getting tested every two weeks. Numbers of infected patients were kept down because of the many precautionary steps taken. Danielle explained that before the pandemic, most people thought of healthcare in terms of doctors and nurses, with little to no knowledge of those working behind the scenes. Now, people are much more aware of what Medical Lab Scientists do, which is a positive step forward, considering there is a shortage of these professionals across the country.
Danielle's plan is to continue working at the VA Hospital and eventually become a shift lead. While in college, Danielle was Vice President for the student club of American Society of Clinical Lab Scientists (ASCLS) at Oregon Tech. She is now an Ascending Professional for the ASCLS for the states of Arizona and Nevada. In this role, she has the opportunity to advocate for her beloved profession, do outreach to other Medical Technologists and assist with events such as Laboratory Professionals Week in April.
As someone who began her college path as a traditional student, took some time off and then earned her degree as a non-traditional student, she has some good advice for current and prospective students. "Enlist the help of your advisor!" She reflects back her advisor and one of her favorite professors, Rose McClure, who helped her the most in successfully tackling this career field by inspiring Danielle with her own passion for the field. As Danielle fondly recalls, "She genuinely cares about her students and their success." That was one of Danielle's favorite things about Oregon Tech, how involved the professors were. "They pushed us to our full potential. They made the information so interesting that it sticks with you forever!" Perhaps that is why Oregon Tech is the premier school on the west coast for MLS.
Danielle and her husband, Andres, recently purchased their first home and are enjoying life in Tucson where they live with their two dogs, Katara and Zuko. We are so proud of Danielle and wish her continued success in this very important field. Go Owls!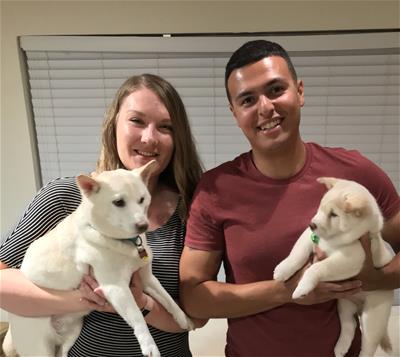 ~Becky Burkeen, Alumni Relations Manager