Alumni Spotlight - August 2018
Cynthia Blachly '87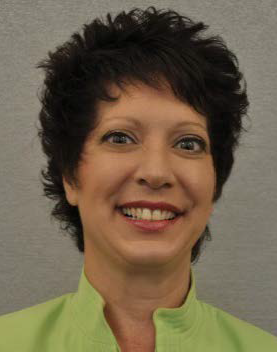 Cynthia Blachly is one of the female pioneers of Oregon Tech, receiving a dual B.S. in Mechanical and Manufacturing Engineering. She grew up in Portland, Oregon and attended Lincoln High School. During her last two years at Lincoln, she was part of a group of students who went to Benson Polytechnic in the afternoons to take advanced math courses and mechanical drafting. At that time, Benson was an all-boys school, but that did not intimidate Cindy. She graduated high school and was accepted to various universities including Stanford, University of Washington, Colorado State University and Arizona State University. Some of her classmates during her time at Benson mentioned they were going to OIT so Cindy and her family went for a visit and decided that's where she would go to college.
Cindy was at Oregon Tech from 1982-1987. Her mother encouraged her to get involved while at school and one of the ways she did that was by being a cheerleader. She recalls how the cheer squad would travel with the football team and cheer on the basketball team, activities which rounded out her collegiate experience. Cindy also worked in the bookstore, was a Resident Assistant and was even Homecoming Queen. She enjoyed campus life, remembering how friendly everyone was and how students at Oregon Tech were very smart, with a different level of focus. Instead of being one of the well-known Cal Poly schools, Cindy referred to OIT as the Oregon Poly of the Pacific Northwest.
In 1987, there were only three girls that graduated from Oregon Tech in Mechanical Manufacturing and Cindy was one of them. They were pioneers in the field and Cindy says she was considered, "one of the guys." Dr. Spickler, one of her professors and the head of the drafting department at the time, encouraged her to enter the co-op program at Boeing and she was the first female to do so.
The Boeing co-op was a 6-month program at the Fabrication Division in Auburn, WA where Cindy worked as a Tool Design and Manufacturing Liaison Engineer on titanium structures and the classified Stealth Bomber aircraft. At the time she thought she was designing submarine components. She earned such a good reputation in just the first four weeks there that she was offered a spot in Boeing's Blue Coat program, a leadership program where individuals rotated amongst the different divisions. Returning to Boeing after graduating from Oregon Tech she advanced her Manufacturing Liaison Engineering role within the Renton, WA 737 and 757 Structures department. The only reason Cindy left Boeing was because another company came around recruiting young engineers to work on micro-gravity projects. That company was NASA - she explains, "What engineer would not want to work for NASA?" So off she went to work at Sverdrup Technology, Inc. as Lead Mechanical and Manufacturing Engineer collaborating on projects for the Space Shuttle program at NASA Glenn Research Center in Cleveland, Ohio designing experiments in the space shuttle bay and working with astronauts. Cindy thoroughly enjoyed working with her hands, growing aluminum crystals in zero gravity. Sverdrup also put her through grad school at Cleveland State University, obtaining a M.S. in Industrial Engineering which was another benefit.
After nearly five years working on the space shuttle experiments, Cindy went on to work at Automated Packaging Systems, Inc. for over 18 years as an Operations Project Manager and Sustaining Engineering Manager. She earned an Executive MBA in Operations Management from Case Western Reserve University and is currently the Director of Quality and Supply Chain Leader at Pneumatic Scale Angelus, where she has worked for the past five years.
The characteristic Cindy loved most about Oregon Tech was that it wasn't a traditional school with a classical classroom setup. It was a place where students could get a hands-on education and do practical work. She wasn't the type of student who could learn just from reading a book, but rather, she has always preferred to do things for herself. Cindy's younger brother, David, also attended OIT, also worked at Boeing and for NASA and is now enjoying a successful career in Australia. Cindy is confident that without the background and curriculum of Oregon Tech, she and David would not be where they are today.
Cindy and her husband Howard Vacco live in Kent, Ohio with their Bulldog, Maddie. The ultimate goal to round out her career? Cindy says being a professor at Oregon Tech someday.
~Becky Burkeen, Alumni Relations Manager