Alumni Spotlight - January 2019
Bill Rannow '60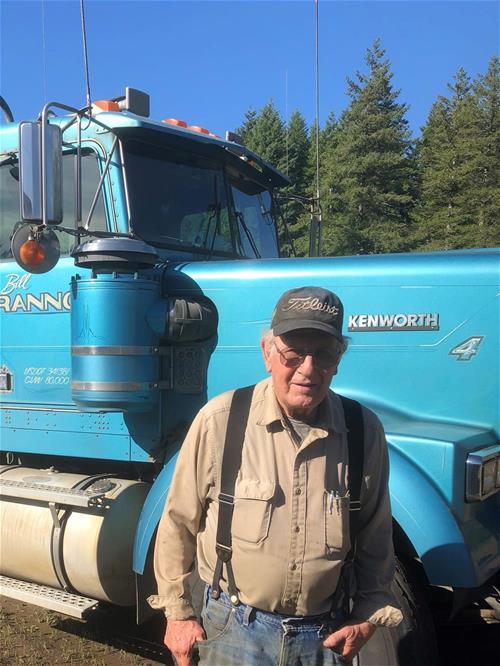 Bill grew up in Sandy, Oregon where he learned the value of a good work ethic. His father was a school teacher and coach at Sandy High School, but the family also owned an 80-acre farm. This is where young Bill discovered his love of big machines; driving a tractor from the time he was six years old.
Bill excelled in sports at Sandy High School, playing football, basketball and his favorite, baseball. After graduation he attended Pacific University in Forest Grove, Oregon. But, while Bill was an athlete and the son of a teacher, he was not academically inclined. He left after only one term and was signed by the then San Francisco Giants to their minor league baseball team, the Yakima Bears. He eventually got cut from the team but continued to play ball in Florida.
In 1953, Bill was drafted by the Army during the Korean War and worked as a guard on base in Missouri for a couple of years. He tried to go back to playing baseball after he left the Army but an arm injury prevented that. Instead, Bill's father encouraged him to go to Oregon Tech (known as OTI at that time). Bill followed his father's advice and enrolled in the Diesel Automotive Technology Program for three years, officially graduating in 1960. With his degree in hand, Bill was immediately hired to work in Livermore, CA for Lawrence Radiation Laboratory, who hired many Oregon Tech grads as mechanical technicians. Even though Bill had moved to Livermore with his wife, LaVaughn, who worked for the school district, he missed Oregon and they soon returned.
Back in Oregon, Bill got a job in the woods as a cat skinner and occasionally worked on the rigging. But, once again his eyes turned toward the big machines and he took every opportunity he could to learn to drive logging trucks. He found out about a truck that was for sale and after discussing it with LaVaughn, he went to the bank to apply for a loan to purchase it. The banker asked, "Are you sure you wanna do this?" Bill was sure.
Bill recalls being told, "If you wanna haul logs, you gotta go to the coast," so he and LaVaughn moved to Lincoln City. At first, she taught school, but they eventually had four children, four log trucks...and a loader. "I never could have done what I did by myself," Bill says. "LaVaughn ran the house, and by that, I mean if the house needed a roof, she took care of it! She took care of the kids, was the church organist for over 40 years, and church secretary for 20. When we got our first truck and needed my name painted on the door, she said, 'I think I can do that.' And, she did. I was able to focus on work and doing the best job possible."
Bill firmly believes that "it's not the truck, it's the logger" and he has enjoyed a long and successful career that he credits to hard work, the ethic he learned from his parents, and being surrounded by good people. Bill feels that he was fortunate to work with many talented people throughout the years and that is why he is still in business today, with three trucks. He hauls logs five days a week and most weekends you can find Bill at the shop doing maintenance.
Bill credits his career to his education at Oregon Tech, saying it gave him the confidence he needed to be successful because of the hands-on experience he received. Now Bill is paying it forward as he and his family just started a scholarship, the "Pop" Rannow Scholarship, to honor his dad and designated for students from Sandy High School who would like to attend Oregon Tech. Representing a work ethic like no other, we are proud to call Bill Rannow an alumnus of Oregon Tech.
~Becky Burkeen, Alumni Relations Manager