Alumni Spotlight - April 2020
Ashley Cox '08, '19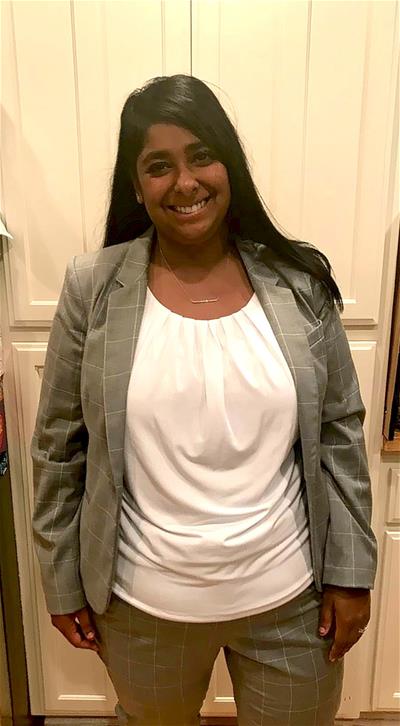 Ashley Cox was born in India and adopted by a couple from Oregon. She went to private schools in Beaverton and Tigard, then attended Newberg High School and considers Newberg her hometown. When she was 11 years old, she decided she wanted to be an attorney and dreamed of attending Duke University. As a high school senior she applied to Gonzaga University and was offered a substantial scholarship. Plans changed though when Ashley's Anatomy and Physiology high school teacher explained to the class that if he could go back to school for anything, it would be for medical imaging. The teacher then showed the class a pamphlet from Oregon Tech with its medical imaging programs. Ashley had never heard of Oregon Tech until that day, a Monday. That Friday, Ashley drove down to Klamath Falls, toured the school and applied that same day. She declined the scholarship to Gonzaga and attended Oregon Tech with no financial aid.
At Oregon Tech, Ashley was an active student. While in the vascular program, she was the student representative chosen to speak to the financial senate that raised money for the Martha Ann Dow Center for Health Professions. Although she helped support the cause for having the Dow building constructed, she never had a chance to study in the building. She was also a student ambassador, on staff with OTB (broadcasting) and returned to Newberg High School to inform students in the same A & P class what medical imaging was all about. During the time Ashley was a student, a cardiac program at Oregon Tech was not in the curriculum, but she took optional courses focused on the subject that helped because her externship was in a cardiac and vascular lab. This opportunity allowed her to cross-train after her externship. Although Ashley no longer works in the vascular field, she feels strongly that Oregon Tech led the way for her to go into cardiac imaging and beyond.
Ashley was the very first student from Oregon Tech to do an externship at Renown Regional Medical Center in Reno. Although it was challenging, the experience made her a skilled sonographer. While on externship, she returned to Oregon Tech to attend a career fair as well as be a guest educator for a day, teaching all about head trauma. She is very grateful to the people who invested in her because of the amount of time and care it takes to train students on externship.
After the period at Renown, Ashley worked for a surgeon for a couple of years in Carson City. She met her husband, who was also from Oregon, in Reno. They moved back to Oregon to be near family. The couple has three children. Back home, Ashley worked at Echovision for eight years, which employs almost exclusively Oregon Tech graduates, and services the Portland Legacy system of hospitals. She worked in the vascular field until 2011 and finished her cross training into cardiac. From 2011-2015 she concurrently scanned both cardiac and vascular. At the end of 2015, she switched exclusively to cardiac. She is now working at Providence, in one of the largest echo labs in Portland.
Inspired by the kindness of the cardiologists at Legacy, she desired to work alongside them as a Physician Assistant. She went back to school at Portland and Chemeketa Community Colleges to fulfill the prerequisites for PA school. During that year, her former professor, Chris Castor, whom she holds in the highest regard, posted on social media that Oregon Tech was starting an online Master's program. She began one course at a time in 2017. Ashley completed her Master's degree in Allied Health in the summer of 2019, and in January 2020, Ashley presented her capstone thesis at a medical cardiology conference in Hawaii. She was the only non-physician, non-PhD poster presenter.
On her way to fulfilling her goal, Ashley was accepted into the Physician Assistant program at OHSU. The program lasts 26 months, after which she will be certified to perform many of the same procedures as doctors. With 15 years of ultrasound experience when she finishes the program, her goal is to be a PA in structured heart, a subsection of cardiac procedures that previously required open-heart surgery. She wants to be in a position to utilize her imaging experience alongside cardiologists, while advocating for the field of ultrasound.
Ashley's two pieces of advice for current or future students: Keep in touch with your classmates. Lean in on them to get through the courses. School isn't easy and neither is the career. Having solid relationships for both arenas will keep one emotionally strong. Second, know good ergonomics and take care of your body. These careers take a physical toll. Scanning ergonomically, even if makes the exam a minute or two longer, will add years to your health and career.
Ashley is grateful for the friendships forged at Oregon Tech; friendships for life. She also appreciated the autonomy students are given. To think that 19-year olds work on such high tech and expensive equipment is incredible, often without direct supervision — that does not happen at other schools! Ashley is giving back to Oregon Tech by volunteering as a scholarship reader and helping at admissions events. She lives with her husband David and their three children, ages 5, 3 and 1.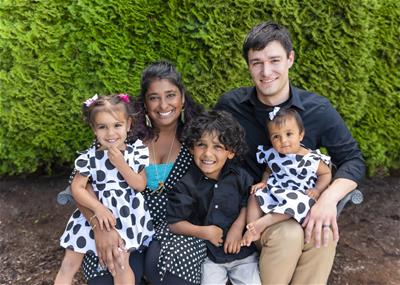 ~Becky Burkeen, Alumni Relations Manager