Alumni Spotlight - August 2019
Armando "AJ" Davila '13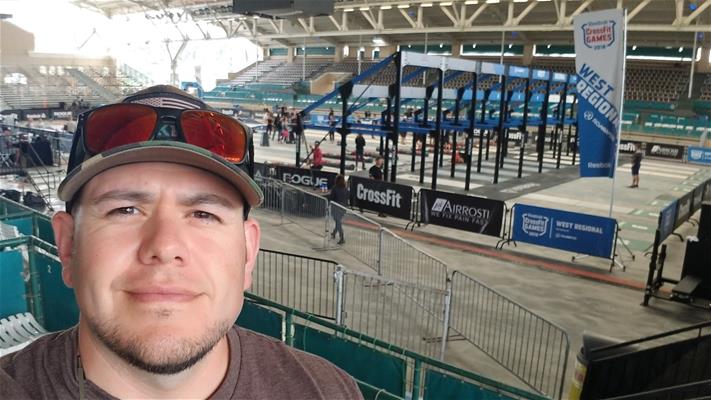 Armando Davila, AJ as he is known, was born and raised in The Dalles, Oregon, along the Columbia Gorge. He attended Wahtonka High School and at age 17, enlisted in the Army National Guard and went to boot camp the summer before his senior year at Ft. Leonardwood, MO. AJ dabbled in various sports in high-school, but was most serious about cross-country and baseball. After high-school graduation he was stationed in San Antonio, TX to become a combat-medic for the Army Guard.
Once he got done with combat-medic school, he returned to The Dalles and realized that if he wanted more military opportunities he would need to be active duty. The active duty Army wouldn't allow him to change over to an infantry job because he was already trained as a medic, so he spoke to recruiters from Marines. AJ's two older brothers had been Marines, one going on to work/retire in law enforcement and the other serving 17 years as a Navy SEAL. So, AJ joined the Marines and went back to boot camp in Jan 2001, followed by infantry school. AJ was training in California at the 29 Palms Marine base when the tragic events of 9/11 happened.
Shortly thereafter, AJ and his unit found themselves training on Faylaka Island off the coast of Kuwait. While there, they were attacked by insurgents in the first public attack on American troops after 9/11. After a very short reprieve back home for the holidays, on Jan 4, 2003, AJ got the call to go to Iraq as part of one of the first ground support units to get mobilized. They spent 37 days on a boat and were part of the invasion into Iraq in March 2003. His unit was a spearhead unit and AJ spent 7-months in Iraq on his first tour. He returned on a 2nd tour where his unit led the battle into Fallujah in 2004. AJ returned safely from that tour and left the Marines in January 2005. He had his firstborn child 17 days after ending his military career.
The first few years after being a Marine, AJ worked in various industries trying to pinpoint his career interests. He tried his hand at law enforcement, bar tending, and construction. With his GI Bill in-hand, AJ moved to Klamath Falls and planned to attend Klamath Community College to brush up on his skills since he had been out of school for some time. He was encouraged to apply to Oregon Tech where he was accepted and began his studies in September of 2009.
AJ had a wonderful and productive experience at Oregon Tech. He spent his first two years majoring in civil engineering and minoring in communications. He loved his communications classes so much that he switched majors. As a sophomore, he took over the existing veterans club on campus and took the necessary steps to make it a program with help from fellow alumnus, Joe Miranda. He also got to be the first "president for the day" under President Chris Maples. During that experience, he had the opportunity to pitch an idea to John Day, chair of Klamath County Development Corporation. That idea was the Iron Owl Challenge, which just celebrated their 9th year of the annual event. The Iron Owl Challenge honors our military members who paid their sacrifices for our country. The challenge has included prestigious military academies like the US Air Force Academy and the US Naval Academy.
Oregon Tech professors Kevin Brown and Dan Peterson took AJ under their wings while he was a student, which he credits for making him successful in his studies. During his senior year, AJ received the top award at the NW Communication Association conference where he competed against other schools in the Northwest region. He graduated in 2013 with a Communication Studies degree and went on to complete a Master's program at Gonzaga University in Communications and Leadership. As a grad student, AJ was afforded the opportunity to present his master thesis back at the NW Communication Association conference.
Klamath Community College hired AJ during his last year of grad school as an adjunct professor and then when he graduated, Oregon Tech also hired him. He is now in his 3rd year at Oregon Tech as an instructor and he loves it! Teaching led him to his other passion…coaching!
In late 2011, AJ checked out the local CrossFit scene. He went to sessions with another former Marine in town and fell in love with the idea behind it. After a couple of years of training, in 2014, he started shadowing as a coach and eventually got his Level-1 certification. He focused on the purpose behind this type of fitness and why it was originally founded. AJ did some personal training, earned more certifications, and gained a broader understanding. He soon developed a business plan and earned his CF Level-2 certification, focusing on coaching. AJ's gym, CrossFit Hogback, officially opened on April 30, 2018. Hogback is class driven with a traditional CrossFit philosophy that fosters fitness and mental-health balance, while teaching self-efficacy in longevity. He loves that his gym's CrossFit variables are constantly changing and the accountability and structure of what he offers his clientele is always growing.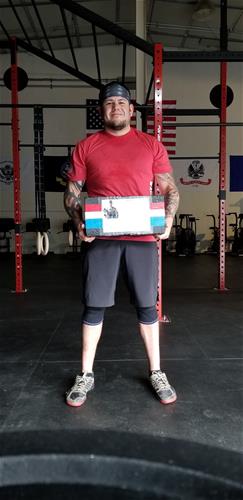 AJ's business is his brand. It is who he identifies as. No one is ever judged in his gym and all are welcome. When asked about his journey to become a business owner, he credits the veteran resources that helped guide him. His advice for other entrepreneurs is simple: You can't do it all on your own. He encourages prospective business owners to talk to people in their desired industry. Seek out mentors, maintain those relationships even after you've started your business and then…become a mentor yourself! Never forget how you started and how you got where you're at. Help others who reach out to you. Communication is key!
After attending many conferences and meeting students from all over the country, AJ is convinced that the curriculum, programs and instructors at Oregon Tech are above par compared to other institutions. Life is busy for AJ Davila these days as he focuses on his business and teaching classes at Oregon Tech. Any down time he has is spent at home with his wife and kids.

~Becky Burkeen, Alumni Relations Manager