Oregon Tech Foundation launches presence in Downtown Klamath
May 5, 2017, 11:23 AM by Nick Jernberg
The Oregon Tech Foundation has a new home this month in Downtown Klamath Falls.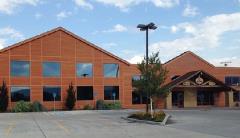 In an exciting move that better connects the university with the community, the Oregon Tech Development office—which encompasses the Foundation and Alumni Relations—has moved from campus to the second floor of the renovated Hoss Business Center on Commercial Street in Downtown Klamath Falls.
The opportunity to move is in line with new president Dr. Nagi Naganathan's goals for Oregon Tech to have a more visible presence within the Klamath Falls community. This is a sentiment which has been shared by many in the city over the years—to more closely bond the university's work and mission into the downtown core. The new, more centrally located space provides ample parking and easy access for Foundation visitors, who sometimes faced limited parking on campus during busy times. Additionally, visitors to the Foundation will have the opportunity to conveniently support other stores, restaurants and services located along or near Main Street.
"A unique opportunity emerged for the Foundation to help our new President accomplish one of his goals and better serve donors and community members," said Tracy Ricketts, associate vice president of Development & Alumni Relations for the Oregon Tech Foundation. "The new office is a great location for our operations as we continue to expand and upgrade our outreach activities on behalf of the university, and create stronger relationships with our Klamath Falls partners and friends."
This new space will provide increased community visibility for the Foundation and Oregon Tech, and allow for more staff engagement in community meetings and activities. The move also created much needed space on-campus for growing operations such as enrollment management.
The University Development office currently employs eight people, six in Klamath Falls and two at Oregon Tech's Portland-Metro campus in Wilsonville. The department also has student workers, who will be working both on-campus and downtown. Contact information for the Foundation, including mailing address and phone numbers, remain the same.
The Oregon Tech Foundation is governed by a volunteer Board of Directors which includes community and business leaders who have experience in finance, education, real estate, agriculture, medical sciences, and other fields. Many of these volunteers are also Oregon Tech alumni. At this time, the Foundation currently provides more than $550,000 in scholarships for Oregon Tech students each year.
To experience their new location, the Foundation would like to invite the public to an open house on Wednesday, May 31st from 4 p.m. to 6 p.m. The physical address is 735 Commercial Street, 2nd floor of the Hoss Business Center, located above Winema Electric. Questions may be directed to the Foundation at 541.885.1130.